St Joseph's Church Extraordinary Minister of Holy Communion
St Joseph's Church Extraordinary Minister of Most Holy Communion is a Ministry which is devoted to our Lord in the Eucharist and set apart for the sacred duties carried out by our members for the community.
These duties include bringing Communion to the sick and elderly at their homes and hospital. The sacredness of these duties necessitates a fuller commitment to the truths of the Church and a clear manifestation of that commitment.
Members of this Ministry are appointed by the Rector and as we are specially called to serve this ministry, we should strive to live more fully by the Lord's sacrifice and to be moulded more perfectly in its likeness. We seek to understand the deep spiritual meaning of what we do, so that we may offer ourselves daily to God as spiritual sacrifices acceptable to Him through Jesus Christ.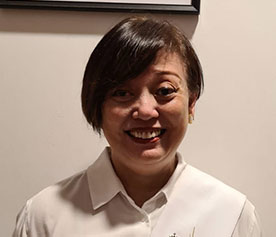 Maria Fatima Pereira
Member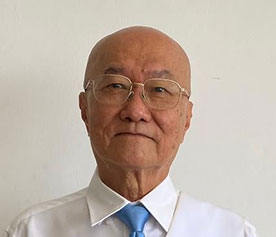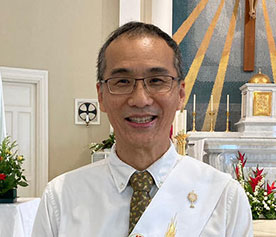 Interested in Joining Us?
If you think you or someone you know will be interested in joining us, do have a look at the requirements for joining us. If you meet the requirements, please fill up and send us the application form. 
Requirements
There are many ministries serving at St Joseph's Church. Click on any of the ministries below to learn more about them.
When I was asked by the priest to serve as an Extraordinary Eucharistic Minister, I was so excited but dared not accept as I felt I was not worthy. I prayed over it and accepted. It was such an honour to be able to serve not only God and the church but our faithful community as well. The first time that I served as Eucharistic Minister proved to be an emotional experience as I was so moved to be in the Sanctuary while the priest consecrated the bread and wine. The moment that I share with the congregation when they receive the Body of Christ is a moving experience. This faith joins us in an extremely strong spiritual bond.
As a secondary school student I would always stop by at SJC to pray inside the church and I would marvel at the silence inside the church contrasted with the hustle and bustle outside with all the traffic noise and the people walking and talking outside. It was a time for me to pray and to speak to GOD about what was happening at that particular point of time in my life. I would also pray to our Lady before the Statute of Our Lady of Fatima and I felt so at peace when I was inside the church. As an adult when I started working I was asked to help assist and serve in SJC and to help out in the Communion Ministry as they were short of people and in the Parish Council and Finance Council. I felt unworthy to serve in the Communion Ministry but I felt that since it was God calling me how could I refuse? The Communion Ministry is an honour for we are as close to Christ as we can possibly be in the sacristy and to give the Body of Christ to others was a privilege and I am always humbled by the experience. I am forever grateful to God for all the blessings that He has showered on me and my family and I am humbled to be able to serve him as an Eucharistic Communion Minister in this unique Ministry to bring Him to the people of God.
The extraordinary privilege of serving in this ministry has helped me grow in divine intimacy with our Eucharistic Lord in ways I could only imagine. Besides being nourished by Our Lord at Holy Communion, I am now invited to participate in the very Mystery of the Incarnation, by assisting others to receive and experience his Sacramental presence into their lives, in administering the Sacred Host to them. Just like the sharing of the gospel to souls that they are loved by God unconditionally, the ministering of the Eucharist now physically feeds the soul with that same joy and fulfilment that they seek