The Immaculate Heart of Mary Choir
Our first Mass as a choir was on Sunday, July 10th 2022, 15th Sunday in Ordinary Time (Year C) @ 5 p.m
Purity, Virtue, a heart enflamed with Love for Jesus…
The sweet stirrings of Mary's Heartbeat…
The sweet sound of Mary's heartbeat was probably the first sound that our Incarnate Lord Jesus heard as He lay in the Cathedral of Mary's womb.
Like the great bells that ring from the Cathedrals and Basilicas throughout the world, signaling to the faithful the coming of Our Lord at the sacrifice of the Mass, Mary's heart resounded, like a sweet resonant bell, a constant song of praise, an unending refrain of her Magnificat.
Her heart, the source of so much love for Our Lord;
Her heartbeat, a sound of comfort for the baby Jesus, even as He was held close to her bosom, the sound of her beating heart probably spoke to Him of her love.
For 9 months, her heartbeat was the main music He heard within the cloister of her womb. Even as a baby born into the world, the sound of Mary's heart beating with love for Him, comforted Him as he nestled, embraced in her bosom.
Her Immaculate Heart – A vessel of purity and grace
The Immaculate Heart of Mary choir desires to make music that is inspired by a love for Our Mother Mary & Our Lord Jesus Christ. We desire to make music that pleases our Lord and glorifies Him through the use of our voices and the works of our coming together in community to practice and offer up our time, our intellect, our charity and our voices.
We seek to be pure vessels for the Holy Spirit to work in us, that we might shine ever brightly, the Lord's Light and Love in this world.
As such, we strive to partake frequently of the Sacrament of Reconciliation, and to receive Him with love and reverence in Holy Communion, taking the time to speak heart to heart with Our Lord so as to Love Him and serve Him more and more as His Mother did.
Like the purity of the beeswax candles upon the altar, or the golden precious vessels used to hold Our Lord's Body and Blood upon the altar, we offer our hearts, our minds and our souls to Our Lord, asking Him to make of us a most precious and pure sacrifice pleasing to Him.
We pray that with a focus on keeping our souls pure for our Lord, our love for Him will be evermore clearly heard through the voices we offer Him, that we as a choir will continue to let Him form us and fashion us into His instruments so as to praise Him in every aspect of our lives.
May our hearts beat as one with the love for Our Lord, as Mary's heart did. We ask the intercession of Our Blessed Mother, that she might lend us her Immaculate Heart, so that, even in the midst of our most inadequate efforts to love, she might, as a good mother does, help to make up for our lack, by placing our little hearts within her maternal heart, so that through Her Immaculate Heart, we might love our Lord more and more with each and every beat of our hearts. Amen.
About the music we sing…
According to the document SACROSANCTUM CONCILIUM – Constitution on the Sacred Liturgy – Promulgated by His Holiness Pope Paul VI (1963)
"116. The Church acknowledges Gregorian chant as specially suited to the Roman liturgy: therefore, other things being equal, it should be given pride of place in liturgical services."
But other kinds of sacred music, especially polyphony, are by no means excluded from liturgical celebrations, so long as they accord with the spirit of the liturgical action, as laid down in Art. 30.
36.1. Particular law remaining in force, the use of the Latin language is to be preserved in the Latin rites.
54."…steps should be taken so that the faithful may also be able to say or to sing together in Latin those parts of the Ordinary of the Mass which pertain to them."
114. The treasure of sacred music is to be preserved and fostered with great care.
120. In the Latin Church the pipe organ is to be held in high esteem, for it is the traditional musical instrument which adds a wonderful splendor to the Church's ceremonies and powerfully lifts up man's mind to God and to higher things.
Following these guidelines, we delve deep into the treasures of our Catholic Sacred Music heritage, incorporating Gregorian Chant, (we use the Kyriale for the ordinary of the Mass)  polyphonic music by Palestrina and Guerrero, (such as Jesu Rex Admirabilis and Adoremus in Aeterna settings) and sing the occasional Propers for the Mass.
We also sing traditional hymns in English as well as in Latin such as the Jesu Dulcis Memoria and Panis Angelicus. We keep our ears open for new sacred music as well, and among our recent sung pieces, we have done Ola Gjeilo's setting of Ubi Caritas and the Pater Noster by Monsignor Jules Van Nuffle. We also draw from music resources such as the Chabanel Responsorial Psalms and the Lalament Propers, found on the highly regarded Catholic Music website Corpus Christi Watershed found at ccwatershed.org  We also utilize the ICEL Mass settings for some of the ordinaries.
We strive to be faithful to the teachings of the Catholic Church and the Catechism of the Catholic Church and to choose only the best authentically Catholic Hymns.
As such, almost all of our hymns are drawn from the Saint Jean De Brébeuf Hymnal published by Sophia Institute Press. https://www.ccwatershed.org/hymn/
It is a hymnal which is 100% Catholic, filled with ancient and noble hymns along with hymns written by the likes of saints such as St. Thomas Aquinas and St. John Henry Cardinal Newman, St Francis of Assisi and many other holy men and women.
We seek out Truth and Beauty, and as the congregation and choir sing these beautiful hymns together, we foster our love for and knowledge of our Catholic faith and Theology. Truly the person who sings, prays twice!
In the Bible, we hear how Mary constantly "pondered these things in her heart". So, entrusted to the Immaculate Heart, we hope too, to ponder the hidden mysteries of Our Lord's life through the music we learn and sing…to learn from His love, His teachings, and to ponder His workings in our lives and in the lives of the people around us.
Finally, whenever possible, we incorporate Sacred Silence within the liturgy, offering up this silence in awe and wonder, especially during Holy Communion.
Words often fail to express the Mystery and Majesty of God and so, we offer up the silence of our wonder and our utter sense of unworthiness before so great a God.
We offer up these moments of Sacred Silence so that Our Lord might find our hearts silent, earnest, intensely listening, so as to hear His Voice and to imitate Our Lady in her Fiat.
"Et incarnátus est de Spíritu Sancto ex María Vírgine : et homo factus est." – CREDO
What we expect from our choir members :
Choir members should :
Be Prayerful – so as to always seek to know and love the Lord.
Be Charitable – so as to love our fellow choir members with the love of God.
Be Responsible – so as to learn music assigned each week and to attend regular rehearsals.
Our rehearsals are on Thursday evenings from 8-9.30 p.m and on Sunday afternoon, from 3.30 p.m to 4.15 p.m.
Be Musical – so as to make Joyful Music unto the Lord.
Have a Good Ear- to listen out for each other, to blend and to listen to each other, and most importantly to hear the promptings of Our Lord.
Be Humble – We seek to serve as our Lord did, to point to Him always, as Mary did, and not to ourselves. Mary's heart was filled with grace and yet she remained ever humble. We seek to learn from her humility and we ask her to protect us under her mantle, so that we do not seek to glorify ourselves, but to glorify God in all we do.
Be Enthusiastic – so as to take delight in the process of learning new music, new harmonies, new hymns, etc.
Read the following article My Reflections Re-2022 Symposium Keynote so that they understand that they have an important part to play in helping everyone at Mass obtain more grace in each and every Mass that we sing for and participate in. This teaching of the Church on 'ex opere operantis' is a great gift.
Who are our members :
Our members are baptized and devout Catholics, ranging in age from teenagers to working young adults, to parents of teenage kids.
Some of us have never sung in a choir before, some of us have professional experience and some of us have had the experience of singing in various choral settings. Some of us read music, some don't.
A lot of us have a good sense of humour and a great love for music. Many of us are learning to sing Gregorian Chant and Polyphonic music for the first time. Some of us are learning to sing in SATB vocal harmonies for the first time too!
What we hold in common, is a desire to grow in community, to learn more about our faith, to sing the mass prayerfully and to grow deeper in our love for Holy Mass, our Holy Catholic Church and our Lord Jesus Christ.
Who directs the choir?
Professionally known in her music career by the name of Corrinne May, Corrinne has been a cradle-Catholic for close to 50 years. She was baptized at and spent her first 4 years at Risen Christ Church in Toa Payoh where her parents say that she could be heard singing 'Lamb of God' enthusiastically at Mass.
She joined the children's junior choir and received her first Holy Communion and Confirmation at Holy Cross Church in Clementi. She was also a part of the RJ Chorale as a student at Raffles Junior College. Thereafter, she was also part of the Music Ministry within the Catholic Students' Society at the National University of Singapore (NUS) and helped to direct the music ministry in her later college years. Upon graduating from the NUS with honours in English Literature, she pursued a Bachelor of Music at the Berklee College of Music in Boston, USA where she majored in Songwriting and Film Scoring and sang with the choir at the St. Ann University Parish.
After graduation, in 2000, she moved to Los Angeles, and took up the position of church pianist at Our Lady of Peace Catholic Church in North Hills, California, USA for 12 years. She also pursued her career as a singer-songwriter, releasing 5 contemporary pop albums.
Corrinne penned the song 'Bless Our Singapore' for the Archdiocese of Singapore in 2015.
The song can often be heard being sung in our Singapore Catholic churches during the National Day Celebrations each year.
Corrinne encountered her first Tridentine Mass in 2017 and fell in love with Gregorian chant and sacred polyphony. Since then whenever she is in Los Angeles, she sings with the St. Vitus choir in Los Angeles, a parish dedicated to the Extraordinary Form of the Mass and staffed by the priests from the Priestly Fraternity of St. Peter. The St. Vitus choir, is under the choral direction of Jeff Ostrowski, founder of Corpus Christi Watershed, a Catholic Music website which educates and provides a treasury of Catholic music resources.
Corrinne blogs occasionally, as a contributor for the Corpus Christi Watershed website. Her newfound love for this 'ever-ancient yet ever-new' and rich treasure of Catholic Music inspires her to spread the knowledge of Gregorian Chant, Sacred Polyphony and Catholic hymnody to her choir members and the church congregation, here at St. Joseph's Church in Singapore.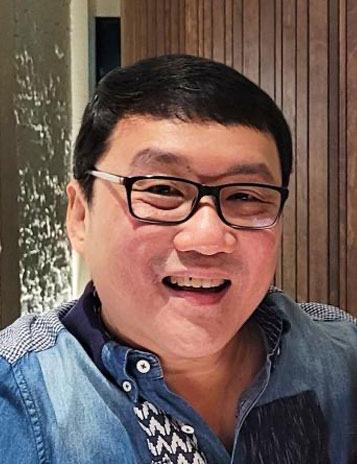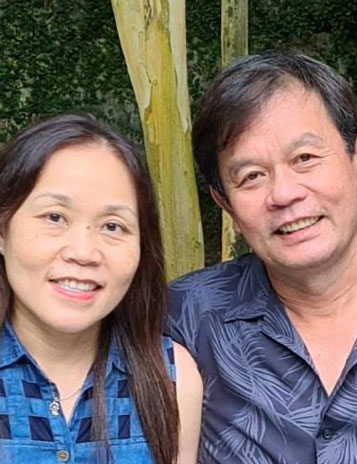 Eric & Cynthia
Fellowship & Welfare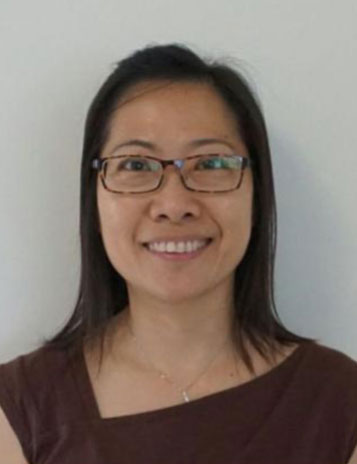 Interested in Joining Us?
If you think you or someone you know will be interested in joining us, do have a look at the requirements for joining us. If you meet the requirements, please fill up and send us the application form. 
Requirements
There are many ministries serving at St Joseph's Church. Click on any of the ministries below to learn more about them.
Music & singing has been an integral part of my life. I am blessed to be part of the St Josemaria Choir to contribute my voice to proclaim the glory of our God in song for the past 4 years.
The best music at mass is any tune, any lyric that speaks to us, that finds a crack in us; and that's how the light gets in. Some days, mass and the hymns we sing is my balm, my lighthouse, other days it is no "neatly packaged answers" and love is not a victory March. It may be a cold and broken Hallelujah. Still, our Heavenly Father accepts our frailty.

And truly, the part that a church choir plays is to encourage my faith not to stop at the head and lips, but that it continues down to the heart. This is why I love to serve in church through singing - it can find our cracks, and that's how the light gets in.
"To sing is to pray twice." I am blessed to have this opportunity to praise God through the power of music. This Choir is my way of serving my community and thanking Him for all that I have been gifted. It has been a pleasure singing alongside like-minded folks who share this same dedication and passion.
Music has always held a strong affinity within me. Singing at Mass brings me closer to God. When we sing, we are welcoming the Lord. Come and be a part of our fun, music loving company. Let us share our bond through music as brothers and sister in Jesus' name. Amen!